Custom signs and graphics in San Diego.
Are you looking for a sign company in San Diego? YEAHGOR Sign & Design Shop is owned by a professional designer with 25 years of production experience. As the professional full-service sign company in San Diego, we proudly offer our customers everything they need, from logo and brand book designs to outdoor and indoor signage and car wraps.
Served locations.
YEAHGOR is a local, San Diego County-based graphic design and sign manufacturing company. It allows us to produce a large variety of custom signs and graphics for your business promotion and identification. All the work we do in our sign shop, so you don't have to go elsewhere to get what you need. 
And also we can easily come to your location throughout San Diego County to save your time.
Custom signs and graphics pros.
Elevating Brands Through Signage Solutions.

 

Ensure that your visions become reality.

Work with you from ideation to installation and take care of all the heavy lifting.

Turn your car or van, office, or shop exterior into a selling tool that will help your business grow.

The knowledge base of local rules and restrictions regarding the type and size of custom signs and graphics in all cities in San Diego County.

 

Answers to all of your questions about graphic design, sign production, and vehicle wrapping.
Custom signs and Graphics cost.
Our work puts customers in and doesn't cost the earth! Because our production experience and knowledge of all modern materials and local markets let us suggest the best quality and price decisions to you.
Still not decided?
With hundreds of successful projects under our belt, we can proudly say that our clients are happy to work with us. They trust our consistent service level and, more importantly, the quality of our work.
Welcome to our gallery, where you can take a quick look at samples of custom signs and graphics, and auto wraps. 
Call YEAHGOR today at 858-848-0929 for a friendly, informal chat and get answers to all of your questions.

Fearless Creativity for Brave Businesses
Yeahgor Sign & Design.
Outdoor Signs.
Every customer approaches your storefront, what they see will create a lasting memory. Make sure it is a positive one with outdoor signage which we will help you with. We provide impactful outdoor signs that attract more customers and get your brand noticed!
If you are looking for the perfect sign to promote your brand, products, and services, we have the right solution for your business. Yeahgor Sign & Design Shop manufacture, and installs all forms of exterior signs, which include: window displays, portable signage, yard signs, outdoor banners, storefront signs, and much more! Whether you need a full collection of signage or just a single signage element, you can be confident that we will create the right signs to support your brand and increase your customer recognition.
Your sign should help you not only attract the maximum amount of attention and customers to your business but also reflect your brand guidelines and continue to reinforce to your community that you're a quality establishment worth visiting. • Signs Samples Gallery >>
Keep in touch. 
Your business is important to you, and we want to help you be as successful as you can be. When we create our signs for you, we work within your brand guidelines, utilizing your logo, color schemes, and fonts throughout all of your signage elements. This creates a consistency that reinforces your brand and impresses your customers with your professionalism. Exterior signs are tools used to draw people's attention to your business, to inform them about the quality of your work, products, or services. And to let them know that you have the solution to their needs. And if your outdoor signage can't convince them to step inside your establishment, you can't expect your business to grow. You don't need generic, off-the-shelf outdoor signs; you need custom-crafted ones that clearly speak your brand and get the job done. Believe it or not, the exterior of your business can be responsible for around 45% of your marketing image.
We work with you so that the entire process of concept, development, manufacturing, and installation, meets the needs and demands of your company. • Signs Samples Gallery >>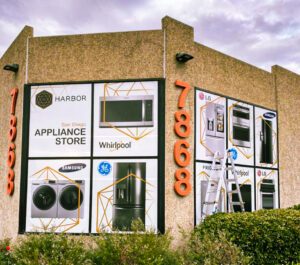 Business Signs
Welcome to YEAHGOR Company, we specialize in the Design, Production, Installation, and Maintenance of all Business Sign types in San Diego County. Including Corporate signs, Outdoor and Exterior, Indoor and Interior Signs, and reception signs.
Good signage is a very important selling tool that will help your business grow by attracting new customers and clients, fostering awareness of your brand, and boosting your company's success. • Signs Samples Gallery >>
We always work closely with customers during the sign production process to make sure the sign meets all your specific requirements. Our experienced staff offer advice and guidance along the way. 
We use various materials ranging from Acrylic to Stainless Steel.
Whatever is your idea for a sign YEAHGOR can transfer it into reality and even a 100-feet building banner. • Signs Samples Gallery >>
Call YEAHGOR today at 858-848-0929 for a friendly informal chat and get answers to all of your questions about design, materials, and signage production.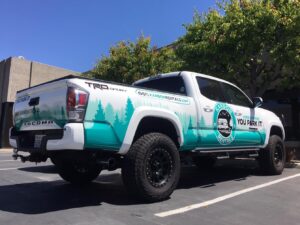 Auto Wraps 
Looking to bring new life to your vehicle?  Want to give your vehicle a different look? Maximize your advertising impact? But don't know what kind of vehicle wraps or graphics you're looking for? We can help you!  Our company offers full vehicle wrap, partial car wrap, perforated window film, vehicle decals, vinyl graphics. As well we provide custom printed wraps, vehicle lettering for all kinds of vehicles from motorbikes, vans, and cars, to larger trucks and busses.
Vehicle wrapping is a great way to get marketing messages and business advertisements to a potentially massive audience. And it is this potential reach, coupled with the cost-effectiveness of this approach, that continues to make it an extremely popular choice.
Not every company in San Diego needs complete auto-wrapping for their business or commercial vehicle. Your car can still be a powerful advertising tool by investing in vehicle magnets, vinyl graphics, or partial vehicle wraps.
Experienced installers are fully equipped with professional tools and high-quality materials to create a cohesive look for your fleet wraps, van wraps, trailer wraps, or car wraps.
We make sure that whatever vehicle wrap element you need fits your business and branding goals.
As the corners stone of perfect results out team contains the most dedicated and experienced designers. 

Why we are the best?
Yeahgor Sign & Design Shop team will be there for you throughout the entire vehicle wrapping process.
Every order starts with a free consultation where we will discuss with you what type of vehicle you have, what type of wrap you're interested in, and what your marketing goals are. It is one of the most effective forms of advertising in the market today. With a single vehicle wrap getting anywhere from 30,000 to 80,000 views per day according to the Outdoor Advertising Association of America. 
If you already have vehicle wraps and are looking to upgrade them, we can take care of removing them, replacing them, and polishing them up.
Here at Yeahgor Sign & Design Shop, you can get all of your questions and confusions about your vehicle wrap answered, as well as how to take care of your brand new wrap.
Call YEAHGOR today at 858-848-0929 for a friendly informal chat and get answers to all of your questions about car wrapping.
⭐⭐⭐⭐⭐ (68)
We are proud to show our customers 5.0 stars reviews: 
⭐⭐⭐⭐⭐  "Yeahgor produced excellent graphics for us that were high-quality graphics which well represented the personas desired! I would recomend and great to work with…."
⭐⭐⭐⭐⭐ Very Well done, service, quote and delivery of product as promised!
I work with Mattress Makers and we recently got our truck wrapped. Best decision! Georgiy was great at communication. He got back to us very quickly and gave us advice on what would look good on our truck. His advice did not disappoint! We use our truck almost everyday and he worked with us on the timing and he even sent his team to us to get it started and then delivered it back to us that same day! we knew it might take a day or two but he brought it back to us that same day! Such a great service! We get so many compliments and I am so thankful we went with Yeahgor. We definitely recommend this business for all your decals and wrappings!